What is mutual aid?
At its core, mutual aid is the idea that we are stronger when we work together and support each other, especially during times of crisis. We see mutual aid in our communities when we meet each others' needs for food, housing, medical care, and more, while organizing against the systems that create the problems we're now experiencing. COVID-19 has sparked a rapid expansion of mutual aid networks, but the practice isn't new. The idea has been around in some form since the early 1900s. You may have heard of theories like social Darwinism, which hold that individual strength will lead to the survival of the "fittest" members of society while "the weak" are left behind. Mutual aid fundamentally disagrees with this worldview. Through our mutual aid work, we demonstrate our beliefs that everyone is valuable, and that everyone deserves a good quality of life. We fulfill the needs of anyone who asks for help, and we make decisions on the direction of our work cooperatively and democratically. We rely on your help to fund our work. For more information on our Mutual Aid fund, including how to donate and how it's managed, click here. Want to learn more about mutual aid? Check out these sources: What Is Mutual Aid? A Primer By the Climate Justice Alliance A series of first-hand accounts from coordinators and participants of different mutual aid projects nation-wide. Video: Sh*t's Totally F*CKED! What can we do? A Mutual Aid Explainer How to Build a Mutual Aid Network in your neighborhood
What can mutual aid look like in Silicon Valley?
One of the key components of our mutual aid work is that it remains flexible, to meet the needs people are experiencing in the moment. It's also collaborative, and we frequently partner with other community organizations to provide aid. Some of our members regularly purchase and deliver groceries to individuals who would otherwise struggle to get food. We've donated more than 2,000 cloth and disposable masks to guard against COVID-19. Since the start of wildfire season we've supplied more than 8,500 KN95 masks, both to other community organizations and directly to Silicon Valley residents. Below are the stories behind some of our more recent projects.
Providing food, toiletries, and PPE to Gilroy farmworkers
California has an estimated 400,000 farmworkers laboring in fields across the state. However, employers refuse to provide them with masks, gloves, or other essential equipment to continue working safely under COVID-19. Due to their undocumented status, many workers cannot access unemployment benefits or other federal forms of relief should they fall ill. In late June, we first heard about the efforts to aid Gilroy farmworkers through our membership in South Bay Mutual Aid. Darlene Tenes of CasaQ was coordinating a Farmworker Caravan that collected and delivered donations from around the Bay Area. Over the course of the next two weeks, our members researched, purchased, and donated more than 500 pounds of food, and hundreds of toiletries like toothpaste, soap and shampoo. We also donated 55 cloth face masks and 50 boxes of diapers. As CasaQ has expanded into multiple agricultural areas, including ones in Santa Clara, Monterey, Santa Cruz, San Benito and San Luis Obispo Counties, we have regularly contributed food, toiletries and PPE to their efforts. You can find out more about the caravans themselves here. It is unconscionable that the people responsible for growing and harvesting our food continue to struggle to survive. And yet, many of the groups Tenes reached out to said they didn't consider farmworkers to be frontline workers. We still have a long way to go to bridge this disconnect, and to educate the broader community about the conditions that farmworkers continue to face.
What can you do to help?
There are a lot of ways to help, whether you are able to volunteer in-person or if you are able to help by coordinating from home.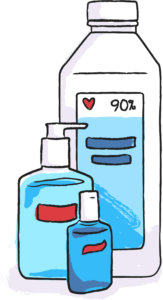 Donate to the Silicon Valley Mutual Aid Fund. Visit the

SVDSA Donations Page

and select "Mutual Aid Fund" in the drop down menu. Your donation will be used as described here.

 We are currently reimbursing folks making free grocery deliveries to community members, buying supplies in bulk for other organizations who are 

helping people impacted by COVID, and are hoping to do much more!

Pass out masks. We are handing out KN95s (which protect against both wildfire smoke and COVID-19) most days at the San Jose Peace & Justice Center. To sign up for a shift, or to find out more on how to distribute masks in your neighborhood, reach out to info@siliconvalleydsa.org.

 

Get involved with SV DSA's Mutual Aid Group. We have weekly calls every Saturday morning for SV DSA's Mutual Aid response. They can be found

here

.

Volunteer with South Bay Mutual Aid. We are an organizational partner of South Bay Mutual Aid, a collective that connects volunteers with community members in need. Sign up as a volunteer using this form to help with things like: grocery deliveries, meal prep, emotional support (ie, talking on the phone with someone who's worried), and much more!